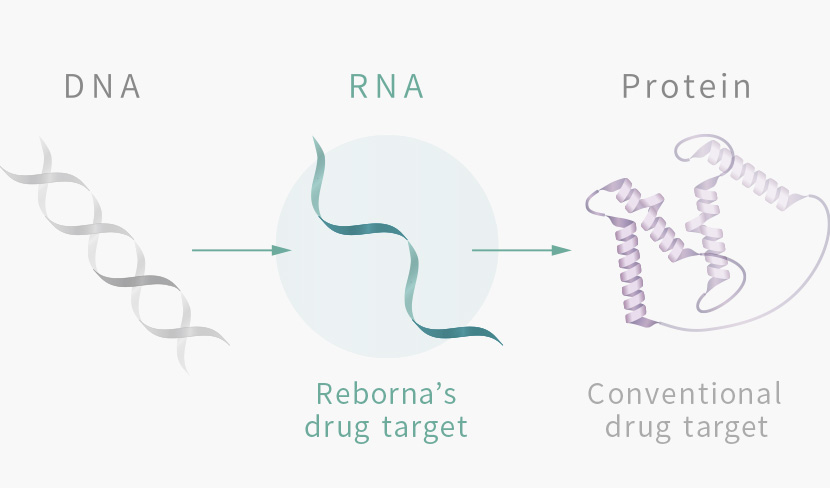 Our drug discovery technology enables the creation of small molecule drugs with a high affinity for ribonucleic acid (RNA), conventionally thought to only be a target for nucleic acid drugs. With this proprietary technology, Reborna Biosciences will promote a drug discovery research program for drugs that demonstrate fundamental treatment effects through the normalization of RNA function.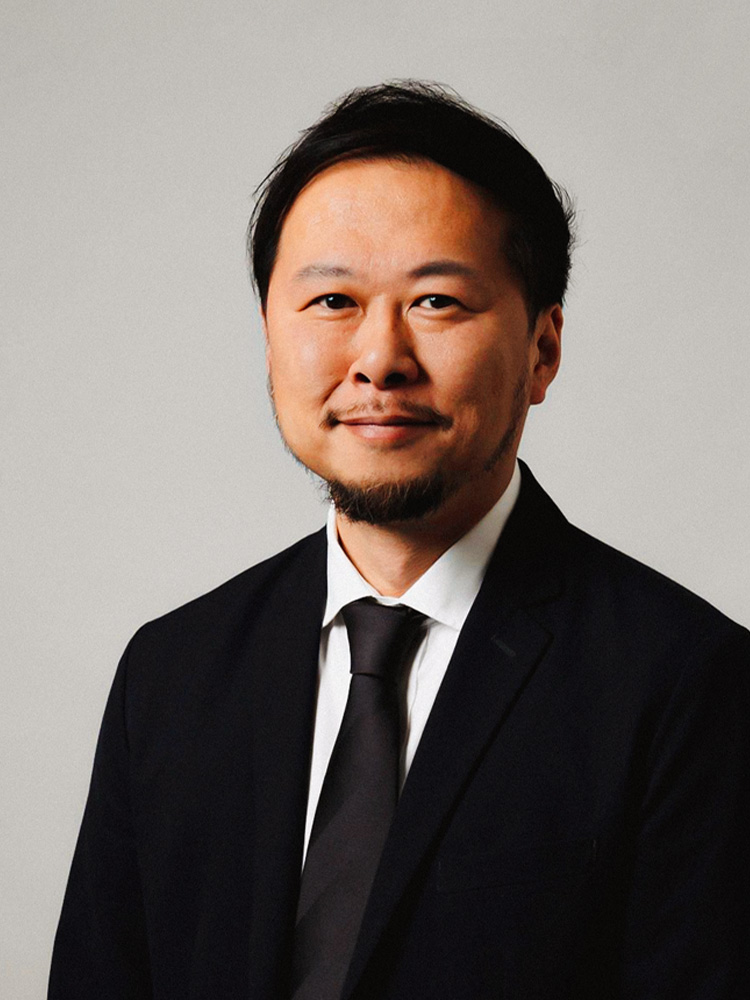 Reborna Biosciences, Inc. was established in 2018 as a biotech start-up to create drugs to meet high unmet medical needs such as drugs for the treatment of rare genetic diseases. There are said to be 9,000 or more rare diseases today, of which many are genetic diseases that develop with a certain probability from genes inherited from the parents. It is therefore not only the patients, but also their parents who are battling the disease.
The company name "Reborna" was created by combining "reborn" with "RNA", the drug discovery target. Reborna was so named out of a desire to provide therapeutic drugs that improve the lives of patients suffering from rare genetic diseases and their families to such an extent that it is as though they have been reborn.
Research and development on drugs in the company's pipeline is being conducted for drugs for oral administration. This is intended to reduce as much as possible the burden on patients as they battle their disease for an extended period of time. By making maximum use of our drug discovery technology platforms we continue to take on the challenge of making a contribution to medical society by undertaking the development of therapeutic drugs for diseases with high unmet medical needs.
Koji Fuji – CEO/COO
Koji Fuji, Ph.D.

Founder, Representative Director and CEO/COO
Dr. Fuji is the founder of Reborna Biosciences and has served as the Chief Executive Officer and Chief Operating Officer of Reborna since the company was formed in 2018 in a carve-out transaction from Takeda Pharmaceutical Company. Dr. Fuji started Reborna with the mission of creating drugs to help patients suffering from genetic rare diseases and their families. Under Dr. Fuji's leadership, Reborna continues to expand its pipeline and strengthen its business globally via the unique drug discovery platform Dr. Fuji has developed. While at Takeda, Dr. Fuji cultivated extensive drug discovery experience across a range of therapeutics areas, including cardiovascular, metabolic, neurological and inflammation diseases. Dr. Fuji received his Ph.D. in Science at the Nara Institute of Science and Technology in 2005.
Yukimi Oda

Director and CFO
Ms. Oda joined Reborna in January 2020, passionate about the company's founding philosophy of "contributing to society through drug discovery." At Reborna, she leads the company's financial and business strategy and is a key contributor to its continued growth. Ms. Oda has extensive experience in the equity investment business, working on equity research in various roles at CS First Boston, Solomon Brothers, Merrill Lynch, and Morgan Stanley, where she was an Executive Director. Ms. Oda then moved to the buy side, joining Arena Capital Management as a founding member in 2013 and investing in various industries, including healthcare, at LIM Advisors until 2018. Ms. Oda holds a B.A. from Sophia University.
Noriyuki Okada

Outside Director
Mr. Okada started his career at Century Ota Showa & Co. (now Ernst & Young ShinNihon LLC), where he was involved in statutory audits of NASDAQ-listed companies, IPO preparations and establishing internal control systems. Following an additional role at Fast Retailing, Mr. Okada founded his own accounting practice focused on startups. In 2011, he joined Jimoty, Inc. as a founding member and head of the corporate department. In 2015, Mr. Okada returned to Ernst & Young ShinNihon, where he focused on planning and managing startups and carve-out programs for large companies. Mr. Okada joined Reborna as an auditor in 2018 and was appointed as an outside director in 2020. Currently, he is the CFO of Infostellar. Mr. Okada is a graduate of the Osaka University Faculty of Law.
Toshiaki Kudo, Ph.D.

Full-time Statutory Auditor
Mr. Kudo has extensive knowledge of the pharmaceutical industry. He started his career at Meiji Seika Kaisha Ltd. (now Meiji Seika Pharma Co., Ltd.), where he was engaged in drug discovery and development research and research planning in infectious diseases and the central nervous system disorders for 26 years. During this time, he served as Director of the Drug Discovery Planning and Promotion Office and Director of the Chemical Synthesis Laboratory. In 2012, he was appointed Director of the R&D Management Department, managing the company's resources for R&D. He also served as the full-time manager of the Audit Department for three years from 2014, where he was engaged in internal audits of domestic and overseas offices and subsidiaries. In 2017, he was appointed as an outside statutory auditor (full-time) of Scohia Pharma Inc. and focused on establishing and operating the company's audit system in preparation for the company's IPO application. Mr. Kudo joined Reborna as an outside statutory auditor (full-time) in 2022. Mr. Kudo received his Ph.D. in Science at the Tohoku University in 1994
Shunsuke Watanabe

Statutory Auditor
Mr. Watanabe began his career at the Tokyo office of Clifford Chance LLP, where he handled a wide range of corporate legal matters for foreign companies, including cross-border transactions, advice on regulatory matters, corporate affairs, litigation, and other disputes. In 2014, he joined AZX Professionals Group, where he is presently a partner. Mr. Watanabe advises both startups and public companies on Japanese law issues across a variety of industries and provides support for startups established by foreign entrepreneurs. He currently serves as an outside director (and member of the Audit Committee) of Zetton Inc. and as an outside statutory auditor of 47 Holdings Inc. Mr. Watanabe holds a J.D. from Keio University Law School.
Shinya Sato

Statutory Auditor
Mr. Sato started his career at Olympus Optical Co., Ltd. (currently Olympus Corporation), where he engaged in patent prosecution/litigation work in the field of endoscopes at the Intellectual Property Department of Olympus Optical Co., Ltd., and Olympus Medical Systems Corporation. He registered as a patent attorney in 2007 and an infringement lawsuit counsel in 2009. After working for a Tokyo-based patent firm in the patent prosecution in the field of medical devices and optics, he joined Isshiki & Co. in 2013, where he is currently a managing partner. Mr. Sato received his M.S. in Materials Science from the Nara Institute of Science and Technology.
Rikako Yamauchi, Ph.D.

CSO and Head of R&D Department
Ms. Yamauchi started her career at Tanabe Seiyaku Co., Ltd. (now Mitsubishi Tanabe Pharma Corporation) in 1989 and has been involved in drug discovery and R&D activities for more than 30 years. At Mitsubishi Tanabe Pharma Corp., she has served as the General Manager of the Pharmacology Laboratory, Product Strategy Department, Future New Value Creation Office, Translational Research Department, and Vice president, Head of Frontier Drug Discovery Research Unit/Frontier, Drug Discovery Sohyaku Innovative Research Division and has extensive knowledge ranging from drug discovery to product strategy planning. Ms. Yamauchi joined Reborna in April 2022. She holds a Ph.D. from the Graduate School of Pharmaceutical Sciences, Kyoto University.
Yasushi Shingai

Advisor
Mr. Shingai was formerly an Executive Vice President and Deputy CEO of Japan Tobacco Inc. (hereinafter "JT") During his tenure at JT, as President of JT America Inc., Mr. Shingai established a series of partnerships with U.S. biotech start-ups and pharmaceutical companies that led to the development of an anti-HIV drug. He later served as the CFO of JT, Deputy CEO and CFO of JT International, and Representative Director, Executive Vice President and Deputy CEO of JT until his retirement in 2018. In 2007, as Deputy CEO of JT International, he successfully made an acquisition and integrated Gallaher Group Plc., a UK-based global tobacco company, by acquiring it for 2.25 trillion yen, and has a proven track record in large-scale overseas M&A. In 2011, he was appointed Representative Director and Executive Vice President of JT. He has also served as an outside director of Recruit Holdings CO., Ltd. Mr. Shingai has been serving as an outside director of Asahi Group Holdings, Inc. and Mitsubishi UFJ Financial Group, Inc. since 2018, and Dai-ichi Life Holdings, Inc. since 2019. He also focuses on supporting startup companies as an outside director of AI startups ExaWizards Inc. and Open8 Inc., and as an advisor to the venture capital firm ANRI. Mr. Shingai received a B.E. and a M.E. in Electronic Engineering from Kyoto University.